Messerschmitt Me 262 B-1a/U1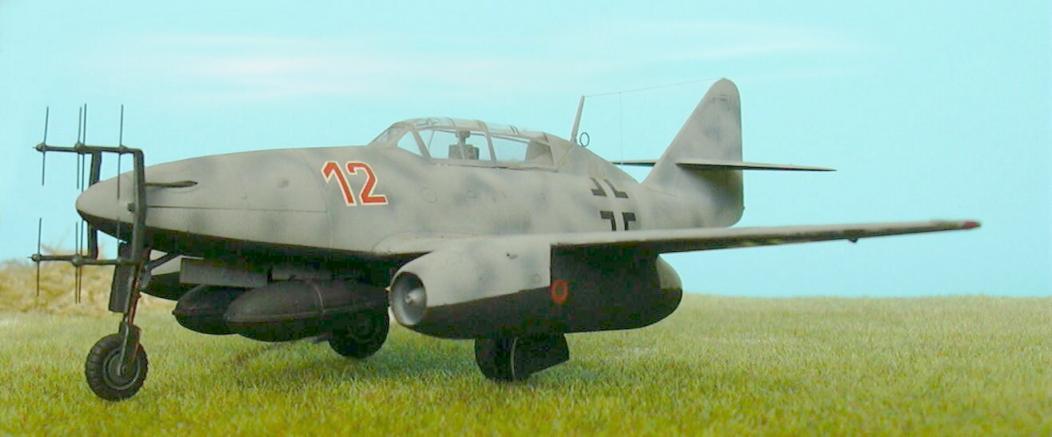 | | | |
| --- | --- | --- |
| Manufacturer: | Kit: | Quality: |
| Hasegawa | Messerschmitt Me 262 B-1a/U1 | |

Die Messerschmitt Me 262 wurde nach der zweisitzigen Trainerversion auch als Behelfsnachtjäger genutzt. Die hier gezeigte Variante war mit nur zwei 20mm MG 151/20 bewaffnet, hatte dafür aber zwei Zusatztanks an der Stelle, an welcher die einsitzige Schnellbombermaschine zwei Bomben trug.
Um die Hasegawa Me 262 zu verbessern, waren folgende Arbeiten nötig:
Der Bausatz ist einfach klasse. Ich habe bloß Gurten zugefügt, ein Visier und das Radar-Sichtgerät des zweiten Mannes.
Die Antennen des Funkgerätes habe ich aus Kupferlitzen gemacht.
Daß die Kanzel beweglich ist, ermöglicht ein kleiner Trick: Die Kanzelteile wurden am unteren Rand nicht verklebt, sondern mittels Steckverbindung aneinandergefügt. Kleine gezogene Gußäste, die die Kanzelteile rechts unten in Längsrichtung verbinden, reichen dafür aus.
Als Tarnfarbe reicht ein Hellgrau für die Oberseiten, aufgelockert durch Mäanderstreifen bzw. Flecken in Dunkelgrau. Die Unterseiten sind komplett Schwarz bzw. Anthrazit gefärbt. Die Kennungen lagen bei.


The Messerschmitt Me 262 also found its role as an auxiliary Night-Fighter, after being used as a double-teamed trainings-aircraft. The variant shown here was armed with only two 20mm MG 151/20 and equipped with two additional fuel-containers in the location where the "Fast-Bomber" one-manned aircraft was wearing two bombs.
To optimize the Hasegawa Me 262, following works were necessary:
This kit is truly fine. I just added seat-belts, a gun-sight and the radio-operator's - the second crew-member - monitor.
The antennas of the radar were made of single copper-wire.
A little trick enables the canopy to be opened: The parts of the canopy were not glued together, but joined with plug-connections. These were self-made of little pieces of heated and warm-stretched sprue, and these sticks join the canopy-parts lengthwise on the right side, bottom.
The camouflage was easy done; light-grey on the uppersides, interrupted by dark-grey curves or blotches. The undersides were painted in black or carbonite-grey. The markings were added to the kit.
Further pictures