Messerschmitt Bf 109 E-4 trop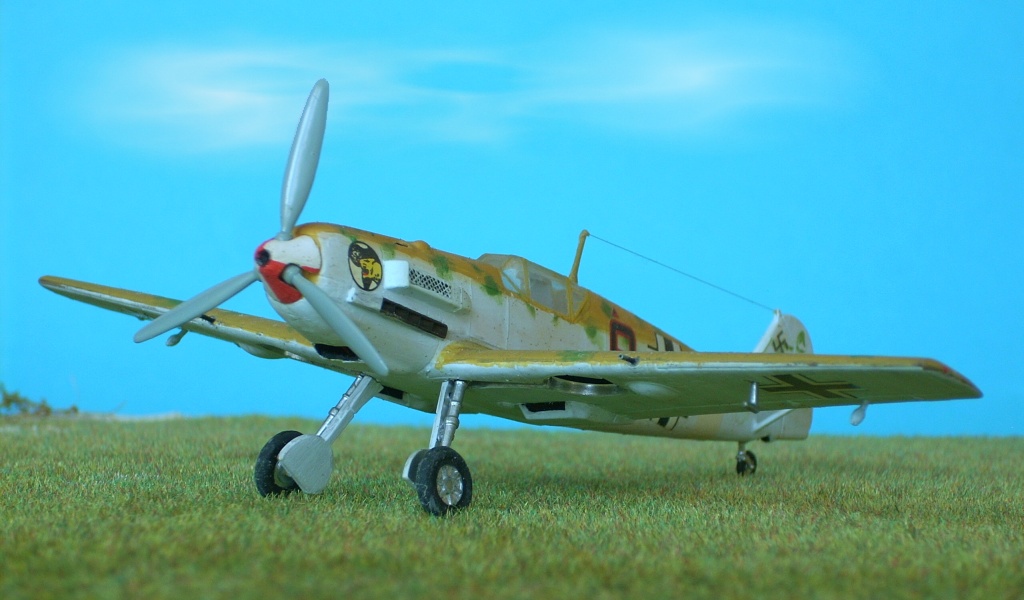 | | | |
| --- | --- | --- |
| Manufacturer: | Kit: | Quality: |
| Matchbox | Messerschmitt Bf 109 E-4 | |

Die Messerschmitt Bf 109 wurde an allen Deutschen Fronten des WK2 eingesetzt, so auch in Afrika. Für den Einsatz im Mittelmeerraum erhielten die DB-601er Motoren einen Sandfilter vor dem Laderlufteinlaß montiert.
Ich spare mir hier viele Worte über den Bausatz aus den 1980er Jahren mit entsprechend schwacher Detaillierung - leicht fertigzustellen; Gurten, Visier und Antenne aus Angelschnur hinzugefügt, die MG-Mündungen aufgebohrt.
Die Tarnung der 109er wurde lediglich an der Oberseite übermalt, Sandgelb mit grünen Flecken, was ich damals einfach mit dem Pinsel erledigte. Das hochgezogene Hellblau der Unterseite blieb so noch eine Zeit lang wie bei den an der Kanlküste verbliebenen Einheiten.
Die Kennung stammt aus der Restekiste, das weiße Rumpfband war ebenfalls ein Abziehbild und ist im Lauf der Zeit stark vergilbt.


The Messerschmitt Bf109 was engaged in all German theater of operations during the WW 2, also in Africa. For activities around the Medtiterranium Sea the DB 601 engines were equipped with a grit filter before the charger's air intake.
I will not waste words about this kit of the 1980's and the flimsy details analogic to the kit's date of birth - easy to build; I added seat-belts, a gun-sight, an antenna of fishing-line, and drilled the nozzles of all the guns.
The 109's camouflage was simply repainted on the upper sides by sand-yellow with green blotches, what I handled with a simple brush. The elevated light-blue of the lower sides was still kept for some time as with the squadrons fighting at the Channel.
Markings and numbers are out of the spare-box, the white ribbon around the fuselage was a decal, which turned to yellow with the times.
Further pictures